Press
Workplace Safety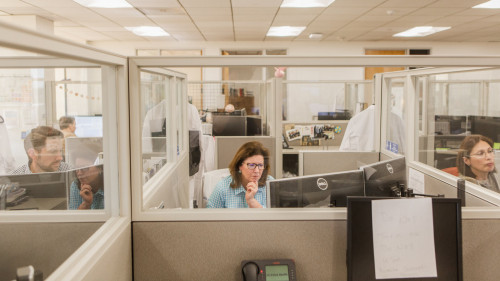 Workplace Safety standards are an essential element of organizational planning as more and more companies bring their employees back to the office. Bart's Office, Inc. has been partnering with many of our clients to redesign, relocate, and rebuild their existing office furniture to create the SAFEST and effective space for their employees and visitors. The best news is that many companies can reuse what they already have in stock for very cost-effective solutions. Bart's offers furniture layout design, installation, and operational guidance for your entire project's relocation. Here are some guidelines and tips that we offer our clients to ensure maximum safety:
Wear masks when not at your desk
Institute one-way aisles to guide employees to auxiliary areas such as the restroom or kitchen
Incorporate staggered shifts for employees if feasible
Install space dividers for desk areas using plexiglass, cubicle walls, or other partitions
Consider Zoom or Google Teams calls for larger group meetings where employees can call from their desks instead of conference rooms
Space desk/cubicle areas at least 6 feet apart
Reduce common area usage as much as possible (gathering areas include breakrooms, lobbies, etc.)
Install hand sanitizer stations throughout your facility
Document and communicate your company's HR policy regarding sick employees, positive cases, days away from work, and work return guidelines
Please contact Bart's for a complimentary assessment of your office furniture layout and design. Our collaborative partnership can help to ensure the safety of your employees and the most optimum productivity of your organization.
Image credit: NY Times