Press
Planning a Stress-Free Office Move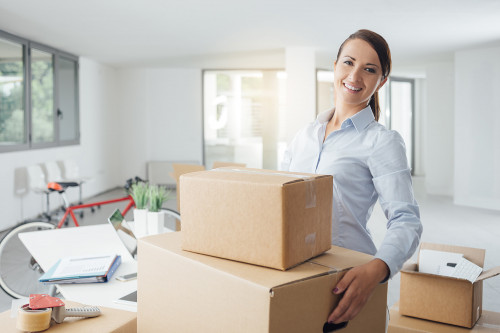 Planning your office's move can be overwhelming. With some helpful tips and early planning, you can relocate your team, equipment, furniture, and filing with coordinated logistics and no major issues.
Six Months Before Your Move: the Four R's:
Review Your Lease. What does your lease require for deposits or fees if you need to end your lease early? Is there a property damage check list or fee breakdown for wear-and-tear, wall damage, burnt out light bulbs, etc.? Make sure you're prepared to make repairs or know what fees you may incur.
Request Quotes from Moving Companies. Which moving companies are available in your area? Which companies have reputations of dependability and accountability? Do you research on budget and availability. Do you have large-scale equipment or delicate art pieces that require special considerations? Make sure you prepare a detailed scope of work for any items that need relocating.
Review Your Insurance Coverage. If your business operations depend heavily on a few pieces of equipment that could halt production if broken, you may want to opt for higher coverage on your move. Moving coverage can cover some expenses for broken items, but often it's substantially less than the replacement cost of an item. It's worth looking into.
Recruit a Planning Team.
Three Months Before Your Move: the Five N's:
Nail Down Your Date: After you have established your new lease or office purchase, establish your moving date. Make sure to confirm your reservation with your moving company. Try to plan your move date to avoid major deadlines for your employees or key client activities that may need to be rescheduled. Your current building or facility may have limited times of the week or the day that they allow moving or use of the freight elevators.
Notify Your Landlord: Inform your current property manager or lease holder of your move date and any plans that they may need to be notified about.
Notate Your Moving Plan: Create a Moving Checklist of people involved, items to be collected or packed, activities to be scheduled (like phone line and wifi installation), and any additional deadlines. Assign responsibilities to team members including moving coordinators, team leads, etc.
News-sharing: Contact any partners or suppliers of your upcoming move and how it may affect delivery, project planning, or production.
Network Planning: Identify your IT, phone, or internet provider that can support your IT needs in your new space. Make sure your services are outlined and installation is planned for your move date. Create a change-of-address contact list or plan a marketing campaign to notify your business contacts of your updated address. (Hint: Be sure to change your website and any directories like Google My Business, Google Maps, social media sites and association directories.)
A few other considerations you may want to explore before you move include hiring an interior designer or architect for aesthetic changes you wish to make in your new space. They can also help arrange your new floor plan for office space, meeting space, internet and phone connections, IT portals, and other office-related needs. Also, you may need to plan for any upgrades to equipment, printing resources, or specialty machinery needed for your new office space. Finally, make sure you have a security plan including any access cards, parking passes, keys, or keypads. You may also need to terminate contracts or accounts related to your current space before your move.
With careful planning, a detailed checklist, and a trusted commercial moving partner, you can accomplish your office move stress-free and on schedule. Contact Bart's for guidance on your office move budget or to plan your next move.