Press
INTERVIEW WITH A MUSE: COURTNEY DAVIS-HERBERT OF BART'S OFFICE FURNITURE REPAIRS, INC.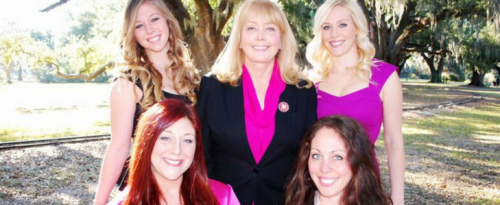 BART'S OFFICE FURNITURE REPAIRS, INC.
From damaged goods to an expanding, eco-conscious business, Courtney Davis-Herbert's delivery on how the Thibodeaux family legacy helps others manage their lives better will move you…literally.
We were born and raised on hard work. It's engrained in us to just get it done.
Bart Thibodeaux wanted sons. When the reality of having four daughters settled in, however, he decided that "these girls are gonna do what I thought my son(s) were gonna do." Growing up, Courtney cut the family's lawn with a manual push mower. Summers were spent following dad on foot picking up trash as he cleared six acres of land with a tractor. Courtney recalls hating that chore, but appreciates the character it built in her and her three sisters.
In August 1978, Bart Thibodeaux decided to start his own company. His first customer was Entergy, and more than three decades later, the Fortune 500 company is still a loyal customer.
Within the first 15 years, business organically evolved from furniture repair into furniture moving and installation along with inventory management and appliance installation. When Bart took a step back for health reasons, his wife Kathleen, the office manager, and daughter Ashley Herbert, the company's COO, were joined by Courtney and her sisters Kasie and Alexie to keep the family business running. Within a few years, Courtney took on the role of CEO.
According to Courtney, Bart's Office Furniture Repairs, Inc.'s main concerns are how are they going to "…grow the company, support more employees and feed more families." They not only care about every person working for the company, they care about their futures as well. To that end, they host monthly meetings for employees, inviting guests to speak on topics such as financial planning and life insurance.
I look at my community and see certain areas struggle and in my own mind try to figure out why that is. How do we get that person to not be in that anymore?
Sometimes working alongside family can be challenging. Courtney is the first to admit that unanimous agreement isn't always reached. A neutralizing, tie-breaking structure is in place, however, when they can't see eye to eye. Kathleen, while still a full-fledged company owner, is no longer involved in the day-to-day operations. She now provides an objective ear and insight whenever a resolution is needed.
Does Bart's Office Furniture Repairs, Inc. have any competitors? In Courtney's opinion, not really.
It's all hands on deck. I want to grow and have every single customer that we touch that year be our cheerleader and tell someone else, 'This is the company that you have to use because they did it right the first time.'
From humble beginnings in a home office to a Metairie facility to their current expansive sight in Gentilly, Bart's knows how to accommodate growth.
Bart's supports nonprofit organizations and schools throughout New Orleans by donating pre-owned office furnishings.
"We've kept thousands of tons, just in the last year, of furniture out of landfills. It's helping to save the earth," says Courtney. So it's no surprise they were recently named 2016 Green Games Award Winner for Emerging Leadership in Building and Energy Services and People's Choice in Health and Human Services. These exceptional women amaze customers by completing jobs under time and under budget. Specialized equipment, unique techniques, and efficiency makes moving any piece of furniture a calculated breeze.
Our muse delivers three pieces of advice that will move you forward in your own business endeavors:
Care about your community.
Take care of yourself.
Stop the self-doubt.