Press
GNO, Inc. Hires Women-Owned Bart's Office, Inc. To Relocate HQ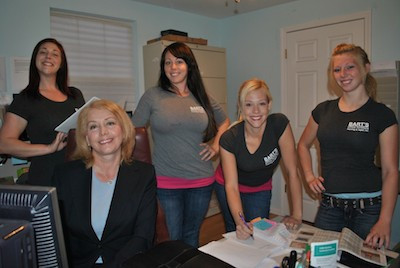 NEW ORLEANS – Greater New Orleans, Inc. – the economic development organization that brings business to Southeast Louisiana – is relocating their 25-person office. They chose Bart's Office, Inc. to help.
Bart's Office, Inc. is a woman-owned and operated award-winning corporate relocation company that serves the entire Greater New Orleans area and the Gulf Coast region.
On Friday, May 29, the pink boxes will start rolling as GNO, Inc.'s 9,000-square-foot office begins to move from its current space in Canal Place to the 34th floor of the Energy Centre managed by the Hertz Group, LLC.
The entire move will be completed by Monday, June 1.
"It's no simple job to upheave an entire office, particularly not one of our size," Michael Hecht, President of GNO, Inc., said. "GNO, Inc. must remain operative during the move, so we wanted to make sure that the transition was swift and efficient. Bart's Office, Inc. has a terrific reputation, so we knew that the women would be up for the task."
Founded in 1978 by Bart and Kathleen Thibodeaux, Bart's Office, Inc. has grown from a small family business specializing in office furniture. Today, the company is operated by Kathleen and her four daughters – Courtney, Alexie, Ashley and Kasie – who oversee every aspect of the business.
According to Bart's CEO Courtney Davis, "People are always shocked to learn that we're a female moving company, as the industry is typically dominated by men. The fact that GNO, Inc. has entrusted us with the move of its office is really a reflection on their commitment to improving regional business conditions and promoting economic growth."
Bart's specializes in moving solutions and coordination, efficient, cost effective move services, furniture and appliance installation and inventory management. Not only will the GNO, Inc. move be efficient, but Bart's says it will also be green. GNO, Inc. is partnering with Bart's and LifeCity to bring new life to the furniture they will no longer need with the upcoming move to their new space. LifeCity is an organization that promotes environmentally and economically sustainable practices among businesses, to ensure that the transition is green.
"LifeCity is helping us connect to local organizations like Habitat for Humanity and the Green Project, said Ashley Herbert, COO of Bart's Office, Inc. "They offer green services ensuring that any unwanted materials will be recycled or donated to a charitable organization. By partnering across many organizations like this, we can take advantage of an opportunity to give back to the local community."
In addition to Bart's Moving Company and LifeCity, GNO, Inc. has also enlisted the assistance of New Orleans-based architecture firm NANO, who identified the Energy Center space and has provided architectural and interior design services to tailor fit the space to GNO, Inc.'s specific needs. Key design features include a glazed wall of windows for all offices to incorporate open space, a feature wall and illuminated desk in the reception area, custom millwork, and crafted workstations and office spaces with furniture from Associated Office Systems (AOS) and KV Workspace.