Press
Employee Spotlight: Ashley Renard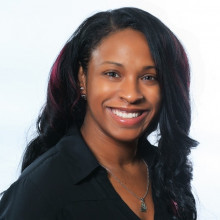 Ashley is a New Orleans native and a proud member of the WHO DAT Nation! Go Saints! She is married with 2 children (12 & 5 yr. old) boys who keep her busy. Ashley also has a small dog that plays referee when the boys get out of line. Ashley's weekends consist of playing chauffeur and personal chef for all of her kids' wants and needs. Sundays are reserved for church and football! Ashley's family vacations almost annually to Disney World.
Mrs. Renard has been employed with Bart's Office Furniture since April 2016 and began her career as a Logistics Coordinator. From the Logistics desk, she transitioned to the estimator team. As of August 2020, she was promoted to Operations & Estimations Manager. "This is an exciting opportunity and I look forward to improving our operations and increasing our customer base!"
Ashley earned an Associate's of Arts Degree with a concentration in Human Resources from Delgado Community College and a bachelor's degree in Business Administration from UNO. Her diverse work experience includes retail management, supply chain, IT, human resources, and payroll. Currently, Ashley is enrolled in real estate courses to obtain her realtor's license.
Hobbies include reading, traveling, attending music concerts, and of course coaching from the dome or sidelines for the Saints. Ashley says she enjoys working out as much as she enjoys eating badly! "You can find me (pre-covid 19) in kickboxing, boxing, or HITT classes."
"Customer excellence is of the utmost importance to me! I live by the golden rule, do unto others as you would have them do unto you. So far, this has not failed me yet! My values continue to motivate me to be the best I can be. No matter how difficult the tasks, I am more than a conqueror!"