Press
Bart's Initiates a New GPS Tracking System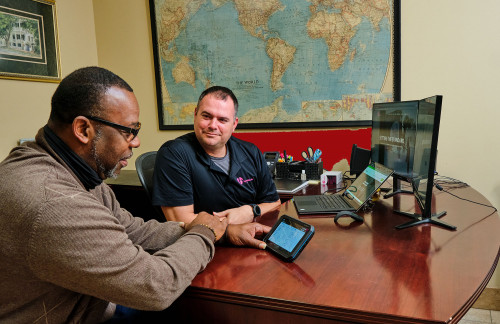 Bart's Office is demonstrating its focus on continuous process improvement and customer satisfaction through a newly installed GPS Tracking system called Teletrac Navman. Teletrac will allow our operations team and our clients to visibly locate where each truck, crew, and product delivery are located at all times. This new system encourages correction of any negative driver behaviors that reoccur and minimize duplicative tasks.
Scoring Our System
One of the genius elements about Teletrac is the scoring system that assigns each driver a rating based on driving speed, harsh breaking, taking sharp corners, and other driving elements. By reviewing real-time information and addressing any concerns with our teams, we will be able to ensure the safety of our crew, equipment and customer product. Continuous training and accountability are key elements of this improvement plan.
System Security and Customer Benefits
The GPS system is hardwired into each delivery truck to ensure the security of each device and eliminates any tampering of equipment. The biggest benefit to our customers is that they can view their product or delivery truck within their viewing portal during their job. Internally, Bart's is able to provide a thorough analysis of our driving practices, fuel efficiencies, maintenance cost, and incident review through a camera system. The camera is also equipped with several A.I features that will alert the management team if a driver is not wearing their seatbelt, is starting to fall asleep, or is driving distracted.
Communication Excellence
Another great feature of the Teletrac system is the onboard Garmin that allows each driver to send and receive messages from our home office. And they can utilize Garmin to map out the best possible travel routes for their day. Ongoing communication about our processes and task management will continuously aid our training programs and, ultimately, our client satisfaction.